List of top Telugu movies of 2021 that are soon going to hit your nearby theatres – See Latest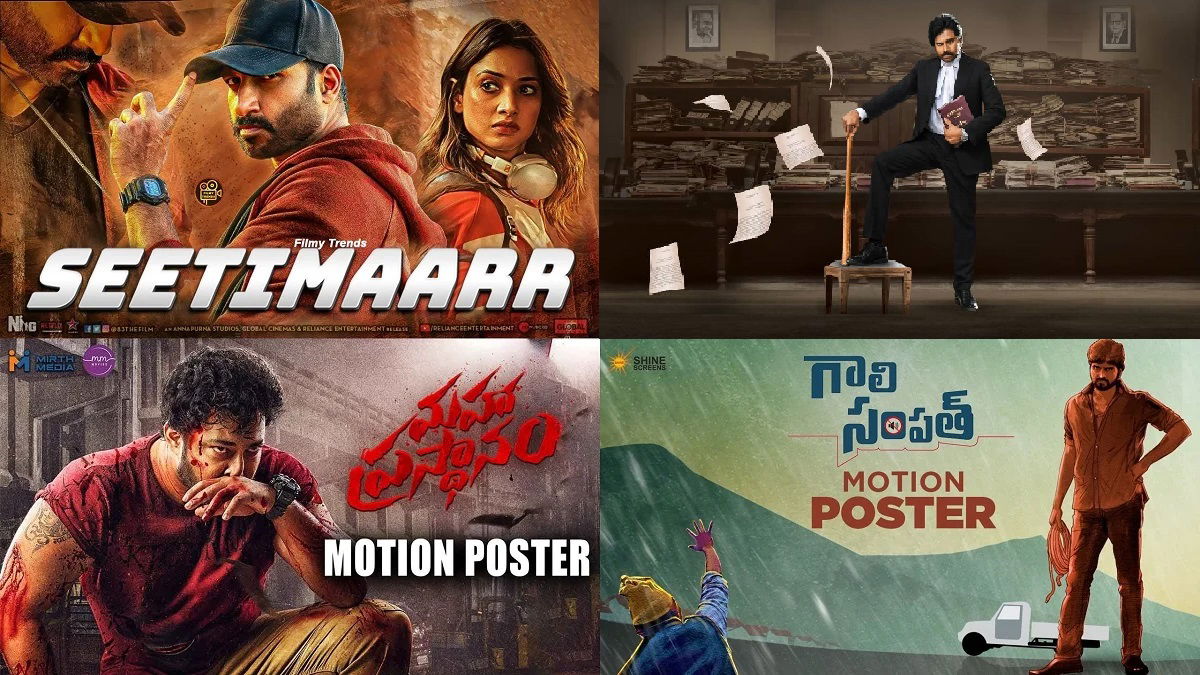 Telugu movies have always been popular amongst movie lovers, Here we are listing some of the top Telugu Movies. releasing in 2021 Here you can see a list of Telugu Movies of 2021. In the Telugu film industry movie makers explore various content in different genres and storylines that impress the viewers.
Some of the best Telugu films inclusive of Maha Prasthanam, Gaali Sampath and Seetimaarr . Here we have listed the most anticipated Telugu movies of 2021, which include Tamannaah, Pawan Kalyan and Tanish.
List of top Telugu movies of 2021-
Director: Jhony
Star Cast: Tanish, Musskan Sethi
Release Date: 07 Mar 2021
Maha Prasthanam tops our list of top Telugu movies of 2021. Maha Prasthanam is an upcoming Telugu action thriller movie directed by Jhony and produced by Shaik Jani Basha under Omkharreswara Creations banner. The movie casts Tanish and Musskan Sethi are in the main lead roles along with Kabir Duhan Singh, Amit Tiwari, Raja Ravindra, Ravi Kale are seen in supporting roles while Sunil Kashyap music for this movie.
Director: Tharun Sudhir
Star Cast: Darshan Jagapathi, Babu Ravi, Kishan Devara,j P. Ravi Shankar, and Asha Bhat
Release Date: 11 March 2021 
Roberrt is in our list of top Telugu movies of 2021. Roberrt is an action thriller film written and directed by Tharun Sudhir and produced by Umapathy Srinivasa Gowda under the banner of Umapathy Films. The film stars Darshan, Jagapathi Babu, Ravi Kishan, Asha Bhat, Devaraj, and P. Ravi Shankar. The score is composed by V. Harikrishna, with additional songs by Arjun Janya. Cinematography and editing are performed by Sudhakar S Raj and KM Prakash respectively. 
Director: Anish Krishna
Star Cast: Rajendra Prasad, Sree Vishnu, Lovely Singh, Tanikella Bharani, Satya
Release Date: March 11, 2021
Gaali Sampath is an upcoming Indian Telugu-language slice of life film directed by Anish Krishna, produced by S Krishna, Harish Peddi and Sahu Garapati through Shine Screens and Imagespark Entertainment. The plot revolves around the life of a young person. He is content with an elderly man. Things take a new turn as he meets and falls in love with a girl. Their life is affected by a few incidents. Can they get back to the happy life they had?
Director: Sampath Nandi
Star Cast: Gopichand,Tamannaah, Digangana Suryavanshi, and Bhumika Chawla
Release Date: 2 April 2021
Seetimaarr is an upcoming Telugu movie of 2021. Film is set to be a romantic action entertainer directed by Sampath Nandi and produced by Srinivasaa Chhitturi. The movie cast includes Gopichand, Tamannaah Bhatia, Digangana Suryavanshi and Bhumika Chawla are in the lead roles while Mani Sharma scored music.
Should Read- Janhvi Kapoor on her birthday wishes to win over the ones who need to be won over, through her work
Director: Venu Sriram
Star Cast: Pawan Kalyan, Anjali Nivetha, Thomas Ananya, Nagalla, and Prakash Raj
Release Date: 9 April 2021
Vakeel saab is also included in our list of top Telugu movies of 2021. Vakeel Saab is an upcoming Indian Telugu-language legal drama film directed by Venu Sriram and produced by Dil Raju and Boney Kapoor. A remake of the Hindi film Pink (2016), it stars Pawan Kalyan, Anjali, Nivetha Thomas, Ananya Nagalla and Prakash Raj.